Help People Experience God's Love and Grow in their Faith
Giving Tuesday Challenge: We need 1,000 new monthly donors to reach more people around the globe!
From a garage studio started in 1981 by Mother Angelica to today being the world's largest Catholic media Network, EWTN is spreading the truth of Jesus Christ through the faithful teachings of the Catholic Church. EWTN's 11 TV channels broadcast in multiple languages 24 hours a day, seven days a week to over 350 million television households in more than 145 countries and territories.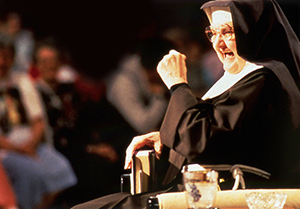 EWTN is helping people grow in their love and understanding of God and His infinite mercy every single day.
With trusted, relevant news coverage on television and radio on events that matter around the world, along with documentaries and articles online and in print that educate, entertain, and explore the beauty and teaching of the Catholic faith, EWTN is strengthening people's faith in God by fully and freely proclaiming the Eternal Word.
But we can't do this critically important work without you.
Would you consider helping more people grow in their love and understanding of God through a gift to EWTN today?
Your gift to EWTN will not only help us reach more people with premier Catholic programming, but it will ultimately:
Bring spiritual healing and hope to people across the globe
Help loved ones to return to the Catholic Church
Deepen personal devotion to the Sacraments
Provide hope and restoration of marriages and families
Strengthen people's relationship with Jesus Christ, the Eternal Word
Did you know Giving Tuesday is November 30th? Consider a monthly gift today and help proclaim the Gospel to the world, 365 days a year!
Don't delay. Make your gift – or sign up for monthly giving – using the secure form below.
Eternal Word Television Network, Inc. is a 501(c)3 nonprofit organization. Your donation is tax deductible in the United States. EWTN's EIN is 63-0801391.
If you are a Canadian citizen or are donating from a Canadian address, make your gift through CanadaHelps.org to receive the proper receipt for tax purposes.