Meat Lovers Mac and Cheese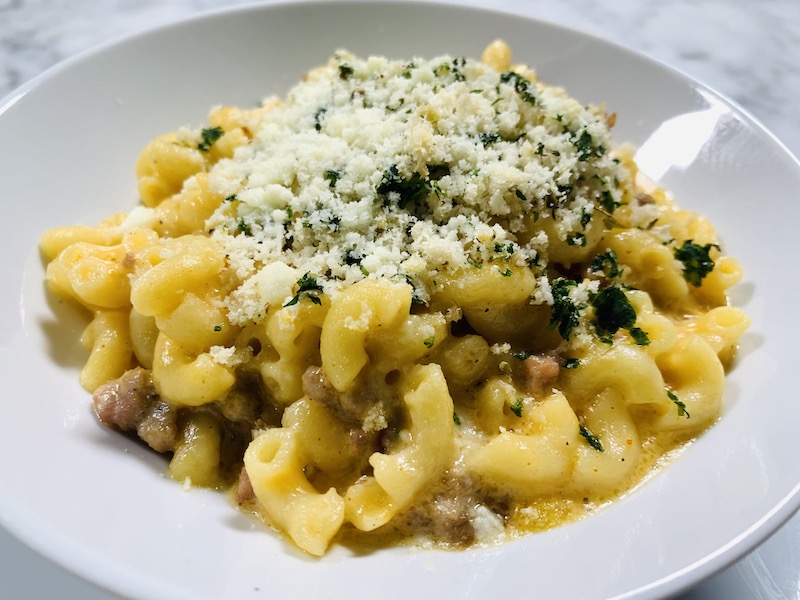 Macaroni and Cheese, cooked in a white wine cheese sauce with a bratwurst crumble, combines the popular flavors inspired by the people, faith and culture of Wisconsin.

Serves: 4-6 people as a Main Course.

Total Cook Time: 35 Minutes

Special Ingredients or Equipment: None

INGREDIENTS

1 Box Macaroni Noodles - Cooked according to package
4 Links Bratwurst Sausage - Case removed and crumbled
1 Cup White Wine (Pinot Grigio or Sauvignon Blanc)
4 Tbs Butter
1 ½ Tbs Flour
1 ½ Tbs Water to be combined with flour (see above)
2 Cups Milk
1 Cup White Cheddar, Shredded
1 Cup Orange Cheddar, Shredded
1 tsp Salt
1 tsp Black pepper
1 tsp Smoked Paprika
½ Cup Italian Seasoned Breadcrumbs
½ Cup Parmesan Cheese

INSTRUCTIONS:

1. Take the casings off of the bratwursts and cook, starting in a cold pan and crumble into smaller pieces. Cook on med-high heat until done, stirring frequently and using a utensil to break the bratwurst up. When cooked, set it aside.
2. In a separate pan, start your sauce. Add the white wine, reduce by half. Once reduced add butter and melt.
3. Mix equal parts flour and water until smooth with no lumps in a separate container. Slowly pour the flour slurry into the butter and wine reduction, while whisking to incorporate and thicken.
4. Once the sauce is thickened, add in milk and heat. When the milk is simmering, add in white and orange cheddar and whisk until smooth.
5. Season with salt, pepper, and paprika.
6. Add the cooked bratwurst crumbles into the sauce.
7. Add the cooked macaroni noodles in and incorporate.
8. Plate in an oven safe bowl or baking dish, top with Italian seasoned breadcrumbs, parmesan cheese, and then broil until the top is golden brown.
9. After broiling, you can optionally top it off with a pat of butter to melt over the top.