Truffle, Asparagus & Egg Toast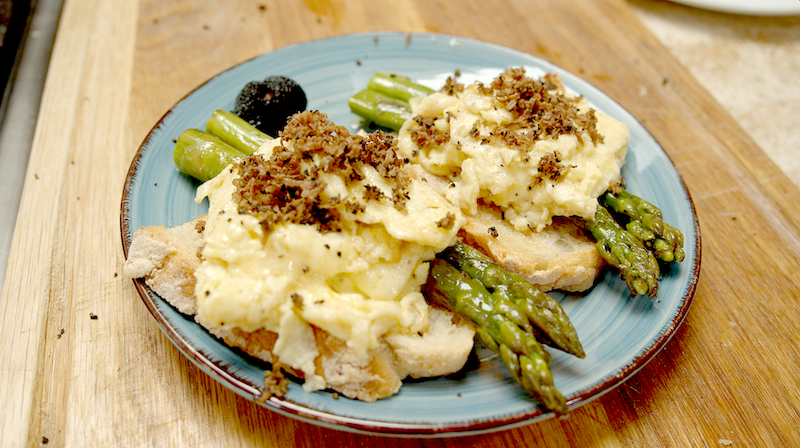 Description: This recipe is inspired by the rustic and earthy flavors of Orvieto, Italy. This simple and elegant meal can be served at any time of the day.
Serves: 1 person
Prep Time: 10 Minutes
Cool Time: 10 minutes
INGREDIENTS:
2 eggs, scrambled
2 pieces bread, toasted
2 stalks asparagus
1 Tbsp butter
2 Tbsp olive oil
1 tsp salt & pepper
4-5 shaves black truffles
1 cup water
1-2 Tbsp grated parmesan cheese
How To Make:
Crack eggs and season with a pinch of salt and pepper. Scramble eggs and set apart.
In a non-stick pan, add water and oil. Plus, a pinch of salt and pepper. Bring to a light boil. Cut the asparagus in half and place in boiling water for about 2 minutes, or until the asparagus is bright green and tender. When tender to your liking, remove asparagus and rinse under cold water. Set aside.
Remove water from the pan. Then, clean and dry it.
Prepare the toast by drizzling a little olive oil and spreading it over the bread. Place it in the pan over medium high heat until it begins to toast.
In the same pan, add the butter and melt. Add the eggs and lightly scramble until desired texture is achieved. Set aside.
To assemble the meal, place eggs on the toast, topped with asparagus.
Shave black truffles on top of toast. Finish the dish with a little pinch of sea salt and olive oil.