Breakfast Yellow Pepper & Egg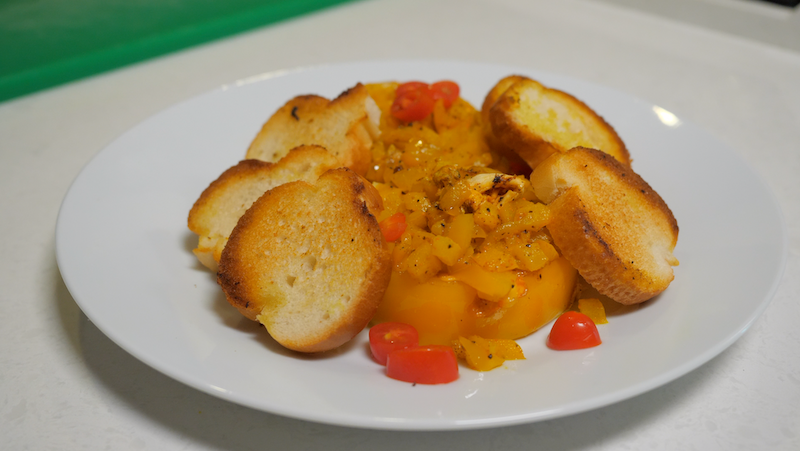 Description: The Epiphany celebrates the Three Kings, bringing gold, frankincense, and myrrh to Jesus. Let's cook three incredible meals to celebrate this special occasion.
Serving: 2 People
Cooking Time: 20 mins
Ingredients:
1 Golden Yellow Pepper, cut into 2 rings (½" each) and remaining pieces diced.
2 Eggs
2 Tbsp Olive Oil
½ tsp Salt & Pepper
1 tsp Turmeric
2 Tbsp Water
¼ cup of Grated Gouda Cheese
2-3 Peppadew Peppers, Diced
How To Make:
Cut the pepper to create 2 rings of the same size, about ½ inch thick. Remove the seeds and discard. Cut the remaining parts of the pepper into ¼ inch diced pieces.
In a nonstick pan, heat 2 tsp of olive oil. Sauté the diced pepper and season with a pinch of salt, pepper, and turmeric. Sauté until the peppers are soft and slightly caramelized. Remove and set aside.
In the same pan, add the remaining olive oil. Add the two ring molds of pepper. Crack open an egg into each of the peppers. Season with remaining salt, pepper, and turmeric. Cook for 2-3 minutes.
Carefully flip the peppers with the eggs.
Add the grated cheese inside the pepper, on top of the eggs. Add the sautéed diced peppers on top of the cheese.
Add the water to the pan and cover, cooking for 2-3 minutes or until the cheese is melted and the eggs are cooked to your preference.
Remove the pepper and egg dish. Set it aside.
In the same pan, add the toast points and cook the bread until golden brown. Place on the plate with the eggs.
Garnish the meal with the diced peppadew peppers.