Corned Beef and Cabbage Grilled Sandwich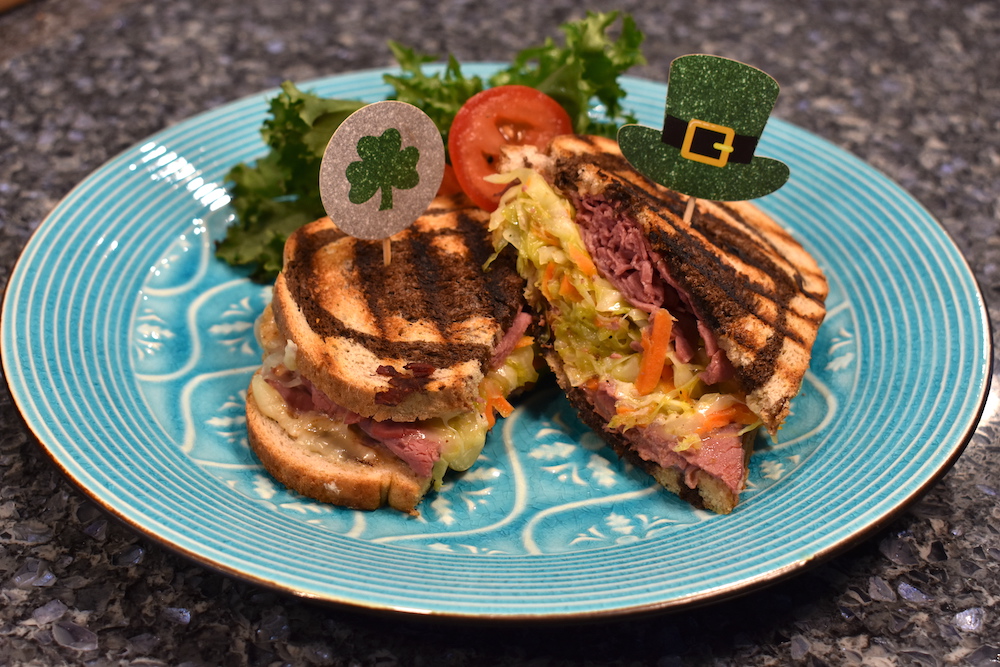 Description:
Corned Beef and Cabbage takes on a new look in this delicious, grilled sandwich.
Serving: 1 sandwich per person
Prep time: 5 mins
Cooking Time: 10 mins
Ingredients:
2 pieces rye bread
2-4 slices deli corned beef
1-2 cup(s) cabbage, shredded
1 shredded medium sized carrot
1 Tbsp olive oil
2 Tbsp white vinegar
1 Tbsp sugar
2 tsp salt and pepper, divided
¼cup mayonnaise
1 tsp paprika
1 tsp garlic powder
½ cup Dubliner Irish Cheese, shredded
How To Make:
For the Pickled Cabbage: In a saute pan, add oil, sugar, and 1 tsp of salt and 1 tsp of pepper and bring to a light simmer. Char the cabbage and carrots. Cook until soft. Then, add white vinegar. When it has the consistency of sauerkraut, set aside and cool to room temperature.
For the Sandwich Spread: In a small bowl, combine mayonnaise, paprika, garlic powder and stir together.
Build the sandwich by spreading a thin layer of the mayonnaise over both slices of the bread.
Layer the shredded cheese, the slices of meat and the cabbage mixture on top, and then top the sandwich with cheese. Place the other piece of bread on top and gently press down.
Place sandwich on lightly greased grill pan and toast over medium high heat until cheese is melted and bread is crunchy, approximately 2-3 minutes on each side.
When cooked, remove carefully, cut in diagonal slices and serve with chips.