Fish & Chips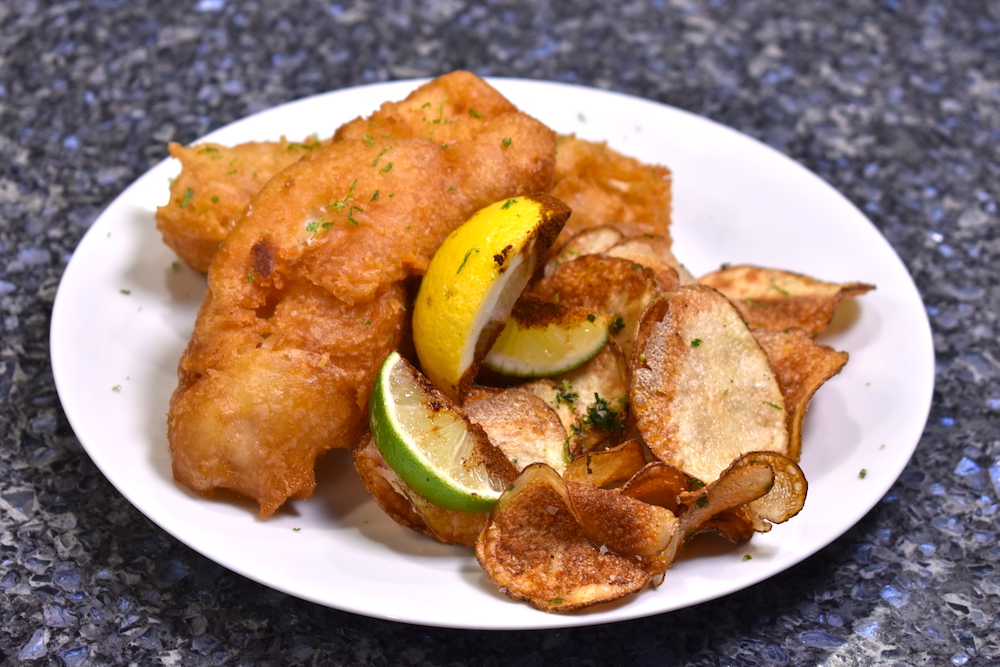 Description:
Fr. Leo makes a meal reminiscent of his time in Ireland.
Serving: 4-5 people
Prep time: 20 mins
Cooking Time: 20 mins
Ingredients:
1.5 cup all-purpose flour
1 tsp baking powder
1 tsp onion powder
1 tsp garlic powder
1 tsp salt
1 1/4 cups Light Beer, very cold
1 1/2 pounds fresh cod (or other firm white fish), cut into 4 – 6oz. pieces
2 quarts vegetable oil for frying
1 wedged lemon, sliced
For the Chips:
4 sliced Large Russet Potatoes, thinly sliced and soaked in cold water and 2 Tbsp of vinegar for 20 minutes.
1-2 tsp Salt for sprinkling (Season to taste)
2 quarts Oil for frying
1 tsp Paprika
How To Make The Chips:
Heat the oil in a deep fryer or a large heavy pan or Dutch oven until the temperature reaches 350 degrees F.
Thoroughly drain the sliced potatoes and blot them with paper towels to remove excess water.
Once the oil is 350 degrees F, carefully cook the potatoes in small batches to avoid overcrowding. Fry for 3-4 minutes until golden brown and crispy. Use a slotted spoon to remove them from the oil and let them cool.
Sprinkle with salt.
How to Make the Fish:
Heat oil in a large Dutch oven or deep frying pan.
Combine the flour, baking powder, salt, garlic powder, and onion powder in a large bowl.
Pour in cold beer and whisk. (Use the batter immediately, do not let the batter rest)
Blot the fish with paper towels to remove excess moisture.
Dip individual pieces of fish into the batter, shake off the large amount of excess batter, but make sure the fish is fully coated.
Carefully place in hot oil, a few pieces at a time.
Fry fish for 8-10 minutes, making sure not to crowd the pan, and making sure each piece is fully submerged in the oil, or turn the fish over midway through for even cooking.
After fish is cooked and golden brown in color, remove, place on top of a paper towel lined plate, sprinkle with salt, and serve immediately.
Serve with a lemon wedge, tartar sauce or aioli.
Serve fish with potato chips.