Gnocchi Bolognese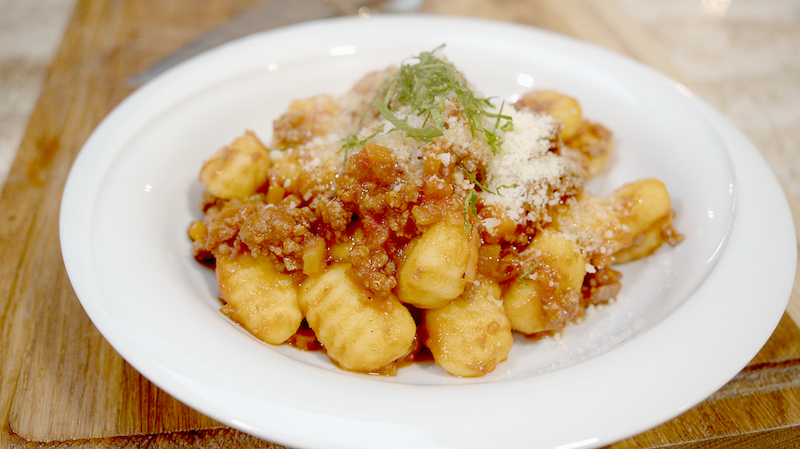 Description:
While there are many different versions of traditional Bolognese, families will find this recipe to be delicious!

Serves: 4-6 people
INGREDIENTS:
1 4-6 ounces Italian Sausage, casing removed
1 pound Ground Beef
½ cup Red / White Dry Wine
¼ cup Tomato Paste
2 cups Tomato Sauce
1 cup Broth (Veggie, Chicken or Beef)
2 tablespoons Olive Oil (add more oil at end of cooking process)
1 medium Carrot, pealed and diced
½ medium White Onion, diced
1 stalk Celery, diced (reserve minced leaves for garnish)
2 diced Cloves of Garlic
1 pound Gnocchi, cooked according to instructions
½ cup Parmesan Cheese, grated
How To Make:
In a large sauté pan, add the olive oil and heat over medium heat. Add the sausage and beef. Break it up into small pieces, using two flat wooden spoons or spatulas. Cook until most of the pink is gone.
Add the chopped onions, carrots, celery, and garlic for 1-2 minutes or until the onions become translucent.
Add the wine and cook for 1-2 minutes, until the strong scent of the alcohol dissipates.
Add the tomato paste, sauce, broth, salt and pepper. Stir together.
Lower the heat and cover for about 8-10 minutes, stirring occasionally.
While sauce is simmering, heat water in a large pot until it boils. Add the gnocchi and allow it to cook until it floats to the top.
When the gnocchi floats to the top, use a strainer and add it to the pan of sauce.
Gently fold the gnocchi and sauce together.
Add parmesan cheese, some of the minced celery leaves, and drizzle with olive oil to serve.