Naan BLT Sandwich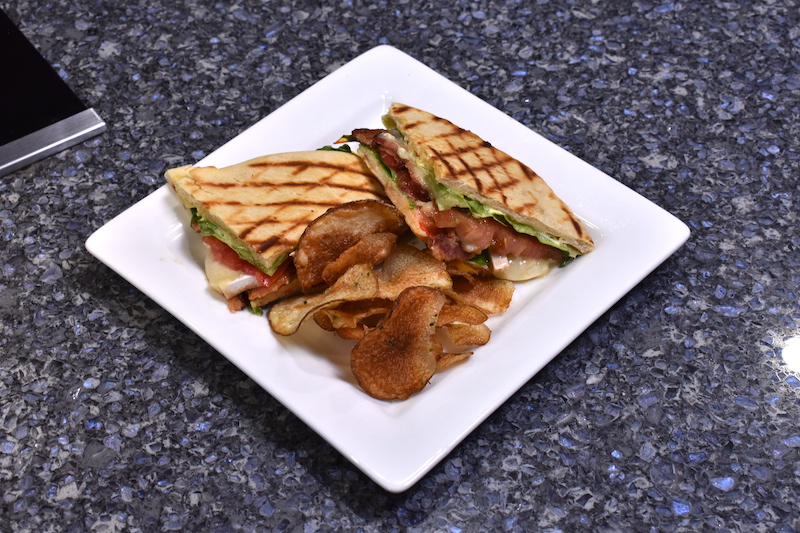 Description: Grandparents are a necessary part of our family. They're more than babysitters or people to visit over the holidays. They're custodians of faith and tradition. This menu helps us to remember that the Holy Family had Holy Grandparents.
Serving: ¼ Sandwich Per Person
Prep Time: 10 mins
Cooking Time: 15 mins
Ingredients:
Two slices Naan bread (or substitute with any flat bread)
4 slices thick cut bacon
3-4 slices Brie cheese
2-4 slices heirloom tomato
2 pieces Boston Bibb Lettuce
1 tbsp mayonnaise
1 tsp mustard
1 tsp lemon juice
1 tsp salt, pepper and garlic powder
How To Make:
In a frying pan, grill the bacon until crispy, remove and drain on a paper towel lined plate and set aside.
Assemble the Naan bread BLT by layering the lettuce, tomato, cheese, and bacon.
In a separate bowl, combine mayonnaise, mustard, lemon juice, salt, pepper and garlic powder.
Use this sauce to spread on the sandwich.
When the sandwich is assembled, lightly grease a grill pan over medium heat.
Carefully place the sandwich on the grill pan and cook for 4-5 minutes over medium high heat. Turn over, lower heat to medium low heat, and use another pan to cover the sandwich. Cook for another 5 minutes or until the cheese is melted.
Cut into ¼ and serve with chips.