Salmon Florentine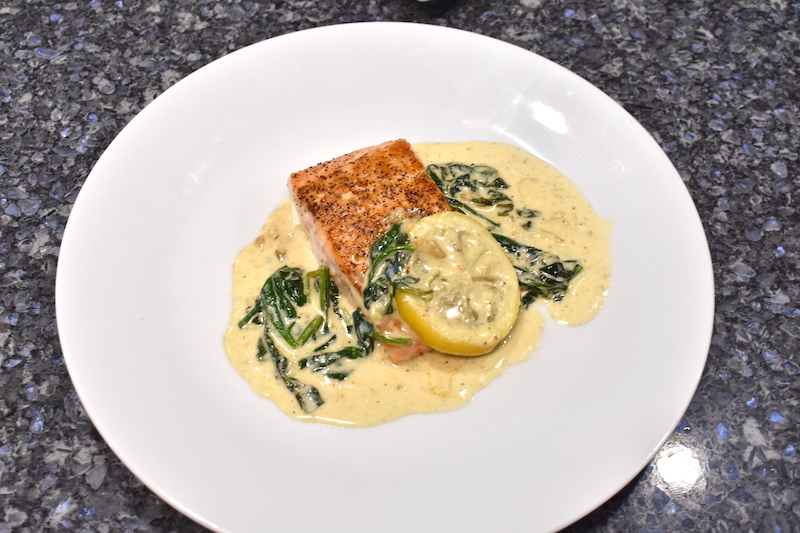 Description: Grandparents are a necessary part of our family. They're more than babysitters or people to visit over the holidays. They're custodians of faith and tradition. This menu helps us to remember that the Holy Family had Holy Grandparents.
Serving: 2 People
Prep Time: 10 mins
Cooking Time: 15 mins
Ingredients:
4 4-6 ounces Salmon filet (one per person)
4 slices lemon
1 tsp olive oil
1 cup frozen spinach, drained and chopped
1 tbsp butter
2 cloves garlic, minced
2 tsp salt & pepper
1 cup heavy cream
1 tsp all-purpose flour
1 tsp nutmeg
How To Make:
Warm oven to 400 degrees
Season salmon with salt and pepper.
In an oven safe pan, add olive oil to a pan and cook the salmon, flesh side down for 4-5 minutes over medium heat. Then, remove from pan and set aside.
In the same pan, add 1 tbsp butter, the garlic, heavy cream, nutmeg and spinach. Stir to combine ingredients. Add lemon slices on top of the mixture.
Return the salmon to the pan, skin side down, on top of the lemon slices.
Place the pan in the oven and bake for 8-10 more minutes.
When cooked, serve salmon on individual plates with a scoop of the sauce drizzled on top. Garnish with lemon slices.