Saltimbocca Alla Romana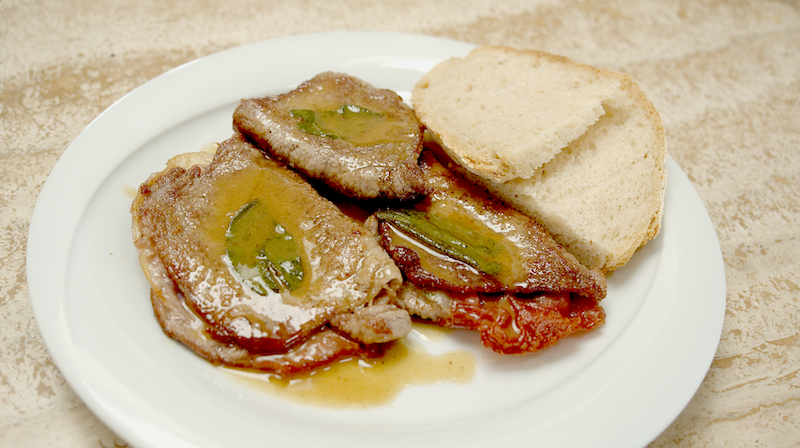 Description: This savory veal dish literally means, "Jump in the Mouth". It's a traditional recipe to remember the Apostle of Rome & Patron of Joy, St. Philip Neri.
Serves: 1 portion per person
Prep Time: 15 Minutes
Cool Time: 15 minutes
INGREDIENTS:
1 4 ounce Veal Scallopini
1-2 slices Prosciutto
½ cup All-Purpose Flour
1-2 leaves Fresh Sage
½ cup Dry White Wine
1 Tbsp Unsalted Butter
1 pinch Salt & Pepper
How To Make:
Prepare the veal by lightly pounding the cutlet so that it's ⅛ inch thick. Season lightly with salt & pepper. Dredge with flour & shake off the access.
Lay the prosciutto pieces in a way that lets you wrap the veal with 1-2 leaves of fresh sage inside the prosciutto.
In a pan, add oil & warm over medium heat.
When the oil is hot, add the veal wrapped in prosciutto to the pan, either seam side down or sage side down in the oil. Cook 1-2 minutes on both sides.
When the prosciutto is crispy on both sides, remove the veal & set aside.
In the same pan, add the White Wine & deglaze the pan. Cook for 1-2 minutes.
Add the butter & turn the heat to low. Whisk together to lightly thicken the sauce.
Return the veal to the sauce & allow it to cook all together for about 2-3 more minutes.
Serve the veal with a little bit of sauce & crusty bread.