Seafood Bari Style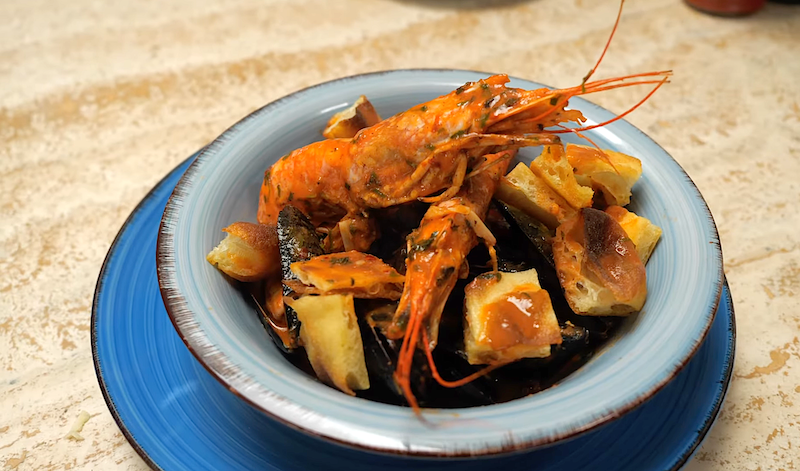 Description: God's saints continuously bring us gifts, especially St. Nicholas! Travel to this unique region of Italy's "boot" and taste the blessings of the land and sea!
Serves: 2 People
Cool Time: 30 minutes
INGREDIENTS:
6 fresh shrimp, cleaned
12 fresh mussels, cleaned
2 cups of day old bread, cubed
1 tsp salt
2 Tbsp olive oil, divided
2 cloves of garlic, minced
2 Tbsp parsley, minced
1 Tbsp oregano, minced
1/2 cup of dry white wine
1 cup of Italian Seaside Sauce (found at: www.platinggrace.com or combine 1 cup of Tomato sauce, 1 tsp anchovy paste, 1 clove of minced garlic, 2 tsp honey, 1/2 tsp salt, and 1/2 tsp chili flakes)
How To Make:
In a large sauté pan, heat 1 Tbsp olive oil and sauté the old bread until it soaks up the oil and lightly toasts. Remove and set aside.
In the same pan, add the shrimp and season with a few pinches of salt, lightly cooking it for 1 minute on each side. Remove and set aside.
In the same pan, add the remaining olive oil. Add the mussels, garlic, oregano, parsley, and white wine. Cook until mussels start to open up.
Add the Italian Seaside Sauce or the tomato sauce, anchovy paste, garlic, honey, salt, and chili flakes. Stir the ingredients together.
Add the shrimp to the pan and cook for 3-5 more minutes.
In a bowl, add some of the toasted bread. Ladle some of the mussels and sauce. Place the shrimp on top and add more sauce and toasted bread.