Stringozzi Pasta with Sausage & Mushrooms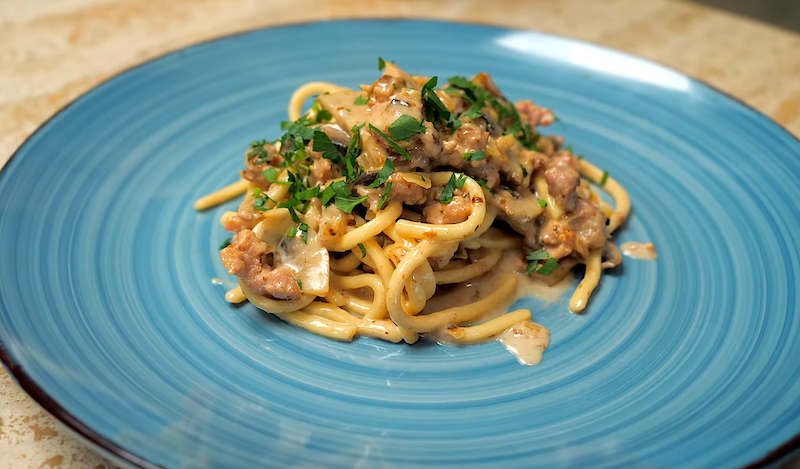 Description: Assisi is as holy as it is charming. Get to know St. Francis, St. Clare, and Blessed Carlo Acutis. Then, enjoy this delicious recipe, inspired by the Italian region of Umbria!
Serves: 4 People
Cool Time: 30 minutes
INGREDIENTS:
1 lb Stringozzi Pasta or thick spaghetti
4 Italian sausages, casings removed
1 white onion, diced
2 cloves garlic, minced
2 cups of mushrooms, quartered
1 1/2 cups of cream
2 Tbsp butter
2 tsp parsley, minced
Salt and Pepper to taste
How To Make:
Boil pasta according to instructions.
In a large saute pan, melt 1 Tbsp of butter. Saute onions, garlic, and mushrooms until lightly caramelized. (Approximately 2-3 minutes over medium heat) When cooked, set aside.
Remove the casings from the sausages. Add them to the saute pan, along with 1 Tbsp of butter. Use a wooden spoon to break the sausage into smaller pieces. Cook the sausage until it's browned.
Return the mushroom, onion, and garlic mixture to the pan with the sausage.
Add the cream and stir together.
When the pasta is cooked, add it to the pan and mix together.
Ladle starchy pasta water into the pan to reach your desired consistency.
Add a pinch of salt and pepper to taste.
Serve with a garnish of fresh minced parsley.