Strozzapreti Pasta with Guanciale & Pecorino Cheese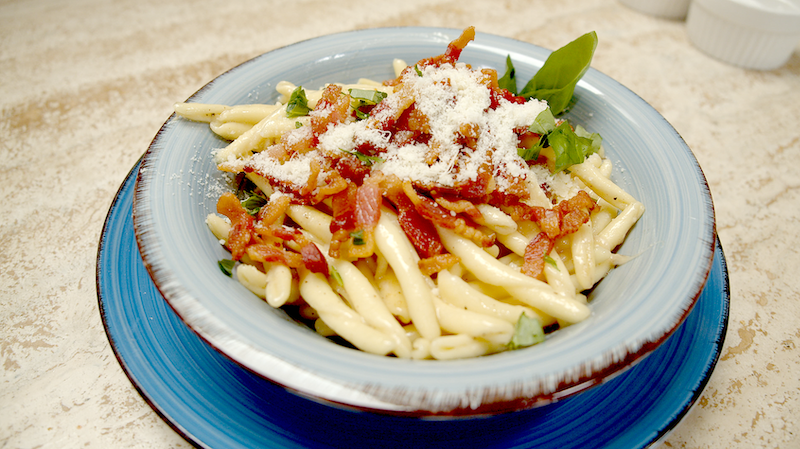 Description: This tightly wound pasta combines some of the traditional roman flavors, including cured pork and salty pecorino cheese and fresh herbs for a savory meal to remember St. Paul.
Serves: 4-6 People
Prep Time: 10 Minutes
Cool Time: 15 minutes
INGREDIENTS:
1 lb Strozzapreti Pasta, cooked al dente (reserved 1 cup of starchy water)
½ lb Guanciale, cubed (or thick cut back can be substituted)
½ cup Pecorino Cheese, grated
1 Tbsp Olive Oil
1-2 Tbsp Fresh Herbs (such as basil or parsley)
2 tsp Black Pepper
How To Make:
Boil pasta & cook according to the instructions. Reserve 1 cup of starchy water.
While the pasta is cooking, heat the olive oil in a pan & add the guanciale. Begin to cook over medium high heat.
In the same pan, add ½ cup of starchy pasta water, pecorino cheese, & black pepper. Stir to combine the flavors.
When the pasta is cooked, add it to the pan. Continue to cook all the ingredients together.
Plate the pasta with a little more pecorino cheese & add fresh herbs to finish.