Tuna Fish Tacos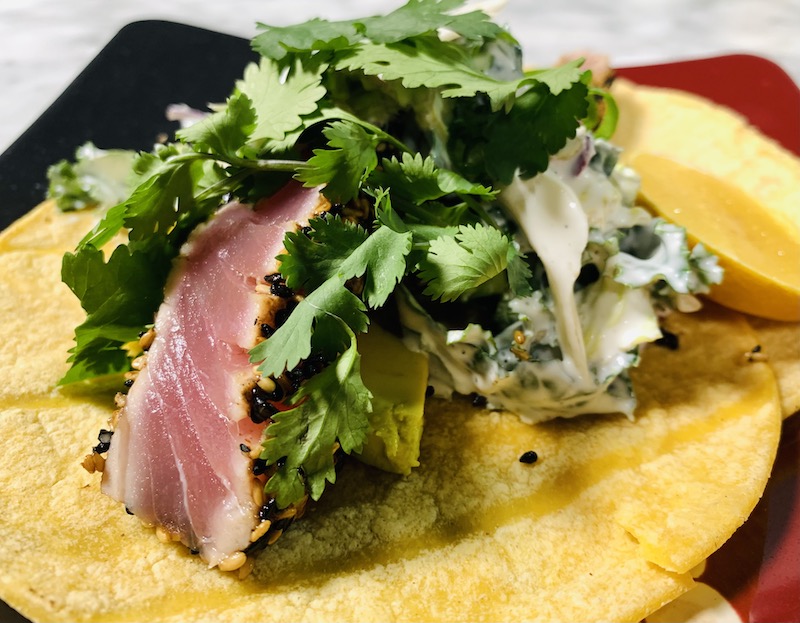 Sesame encrusted marinated tuna steaks with a Greek yogurt dressed slaw.

Serves: 4-6 people as a Main Course.

Total Cook Time: 20 Minutes (Needs 1 Hours to Marinade)

Special Ingredients or Equipment: None

INGREDIENTS
Fish Taco:
3 Full Tuna Steaks
1 Cup Sesame Seeds
1 Cup Black Sesame Seeds
2 Tbs Olive Oil
1 Tsp Garlic Powder
1 Pack Corn Tortillas
1 Ripe Avocado
1 Bunch Cilantro

Fish Marinade:
2 Cups Ponzu Sauce
½ Bunch Green Onions, Thinly Sliced
½ tsp Red Pepper Flakes
½ Cup Brown Sugar
½ tsp Fresh Ginger, Minced
¼ tsp Black Pepper, Ground

Slaw:
1 Bag Cole Slaw Mix
1 Cup Greek Yogurt
1 Cup Mayonnaise
4 Cloves Garlic, Minced
2 Tbs Lime Juice
1 tsp Salt
½ tsp Black Pepper
1 tsp Chili Powder
1 Tsp Cumin

INSTRUCTIONS:
Start by making the marinade for the fish, combine ponzu, green onions, red pepper flakes, brown sugar, ginger, and black pepper in a bowl.
Slice Tuna Steaks into 2-inch-wide logs and soak in marinade for a minimum of an hour, prior to cooking.
In a large bowl, combine Greek yogurt, mayonnaise, garlic, lime juice, salt, pepper, chili powder, and cumin, and mix thoroughly. Add in coleslaw mix and toss, then set aside and refrigerate.
Take the tuna steak logs out of the marinade and pat them dry and give them a light seasoning of garlic powder.
In a bowl or baking dish, combine equal parts white and black sesame seeds and mix. Roll each tuna log through the sesame seed mix and press them in to ensure an even coating.
Add olive oil to a hot pan. Once shimmering, on very high heat, add in the sesame encrusted tuna. Turn every 20-30 seconds to sear each side. Once all sides are seared, put the tuna onto a separate plate to rest. The total cook time should only be about 2 minutes or less, to ensure that the tuna is nice and rare on the inside.
While the tuna is resting, heat up the corn tortillas in a pan with no oil.
To plate, slice the tuna diagonally, or lengthways, and place in the corn tortillas. Top each of them with some slaw, garnish with avocado slices and cilantro and enjoy!