Veal Milanese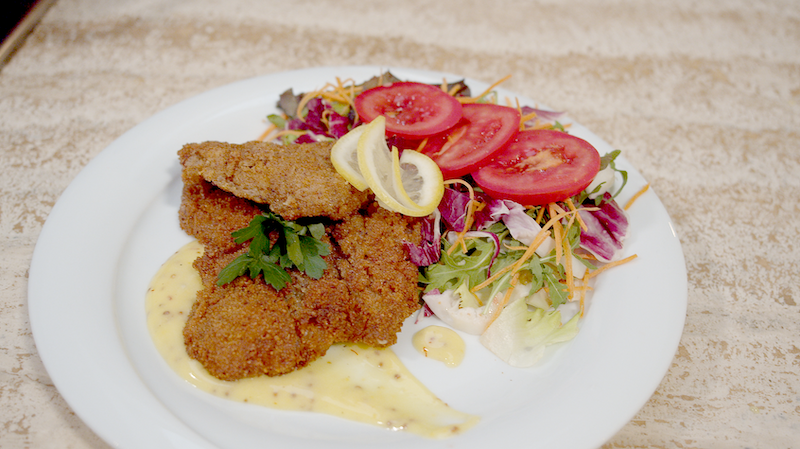 Description:
This is one of the most iconic dishes of Milan. You can make it your own with a few simple and unique ingredients.

Serves: 4 people
Prep Time: 10 Minutes
Cool Time: 20 minutes
INGREDIENTS:

4 Scalloped Veal, thinly cut or pounded thin
2 beaten Eggs with 2 Tbs of water
1 Cup All Purpose Flour
2 Cups Breadcrumbs (with Italian Seasoning)
¼ Cup Olive Oil
1-2 tsp Salt & Pepper
For the Safron Aioli
1 pinch Saffron
1 Egg Yolk
1 Juiced Lemon & Zested
½ Cup Olive Oil
1 pinch Salt and Pepper
How To Make:
Use equal slices of veal. If not yet scalloped (cut thinly), then use a mallet to thinly and evenly pound the veal.
Season with salt and pepper and coat with flour.
Prepare the egg wash by whisking together the 2 eggs with 2 tablespoons of water.
Shake off excess flour and dip into the egg.
Shake off excess egg and coat both sides of the veal with the breadcrumbs.
Set aside in the refrigerator for a few minutes.
Heat oil in a pan over medium heat and gently place the veal into the oil, cooking for 2-3 minutes on each side, or until golden brown. When cooked, remove from the pan and set aside on a paper towel. Add another pinch of salt and pepper to the top of the veal.
To prepare the Saffron Aioli, add the saffron, egg yolk, salt, pepper, and 2 tsp of the juice and zest.
Whisk the ingredients together, while slowly drizzling in the olive oil, until it has a creamy consistency.
Serve the veal with a dollop of the aioli and some fresh greens. Optional: Garnish with a slice of lemon, or zest some lemon and sprinkle with parmesan cheese.